RC PRO RACK ELITE 1/10 STORAGE / DISPLAY RACK / WORK STAND
Regular price
$29.95 USD
Sale price
$25.00 USD
Unit price
per
Sale
Sold out
The RC Pro Rack Elite display/storage/maintenance rack is a great way to get your 1/10 scale vehicles up and out of the way, but it also coverts to a table top work/display stand. Pro Rack Elite still stores your vehicle on the wall, and keeps your foams from flat spotting and the tension off your suspension when it's not in use.  The added plus is that, with the key hole mounting you can easily remove it from the wall, convert it to a work stand and take it with you to your favorite events, for displaying or repairs. The Elite in wall display mode has a symmetrical arm design and is a bit more stealthy on the wall. It's much better for stacking in tight groups/columns. The Elite model's cupped cradle works well with tons of vehicles but works especially well with all linked trucks, cheaters, bashers and crawlers.  No matter what the rig, Pro rack has you covered. The Elite is geared toward crawlers, under 11" wide, for wall based mounting.

Weight limit on this rack is 15 Lbs. The rack can hold more weight but needs the HD kit (sold separately)for added strength in key areas.

We strongly suggest using storage leashes for safety and protection on all scale RC vehicles.
All Pro Rack cradles feature a slotted design that allows for 4-way adjust-ability, to accommodate "cheater" rigs with canted base plates, balancing factors or for aesthetic purposes.
Converts to work stand

Use For Repairs

Table Support Fins

Enhanced Cradle

No Slip Foam Pad

Cheater Compatible

Carry All Pack Slot

Radio Storage Slot

Hardware Included

Anti-Flat-Spotting

Pro-Spring-Saving

Keyhole Mounting

Take It With You

Cold Rolled Steel

Patented Design
Share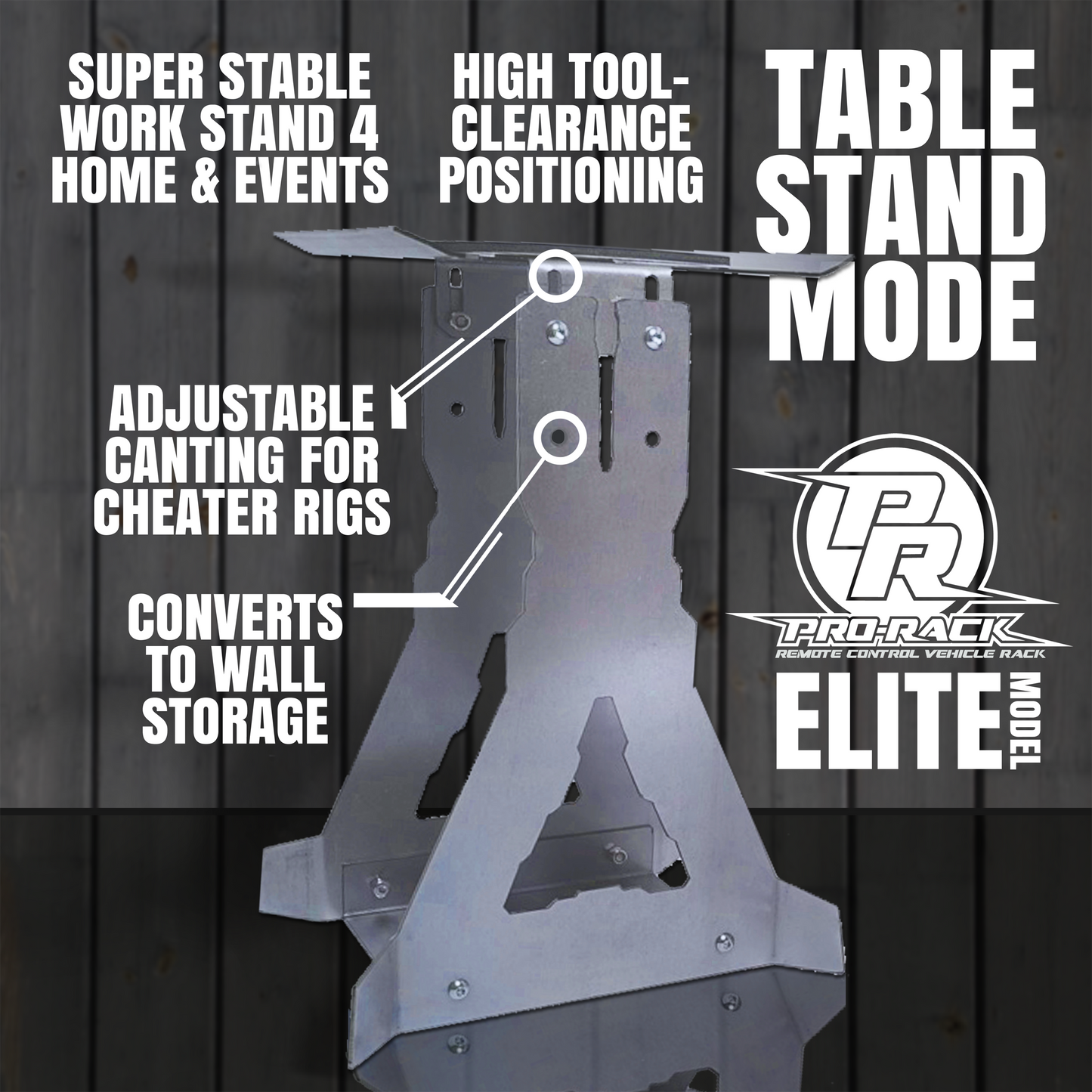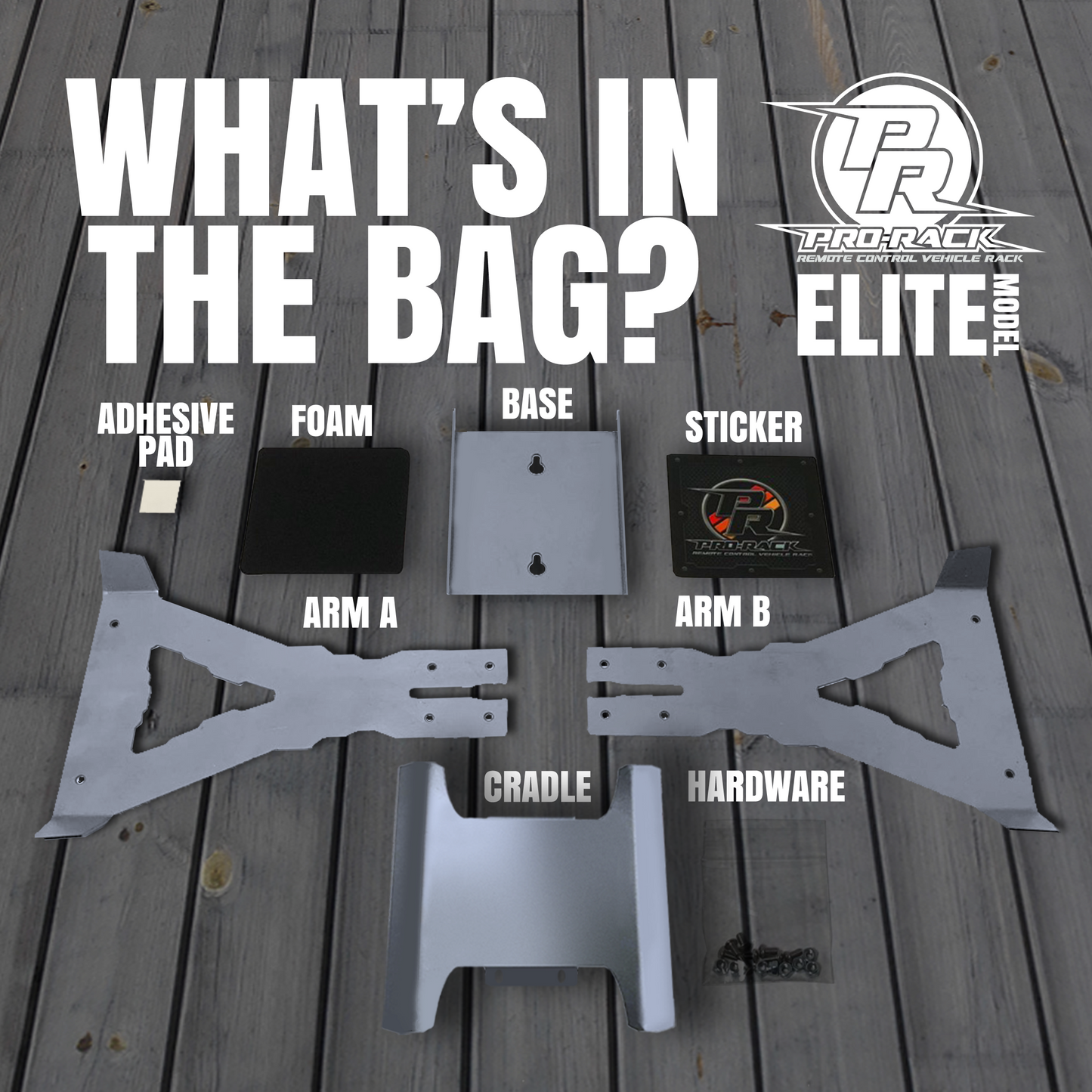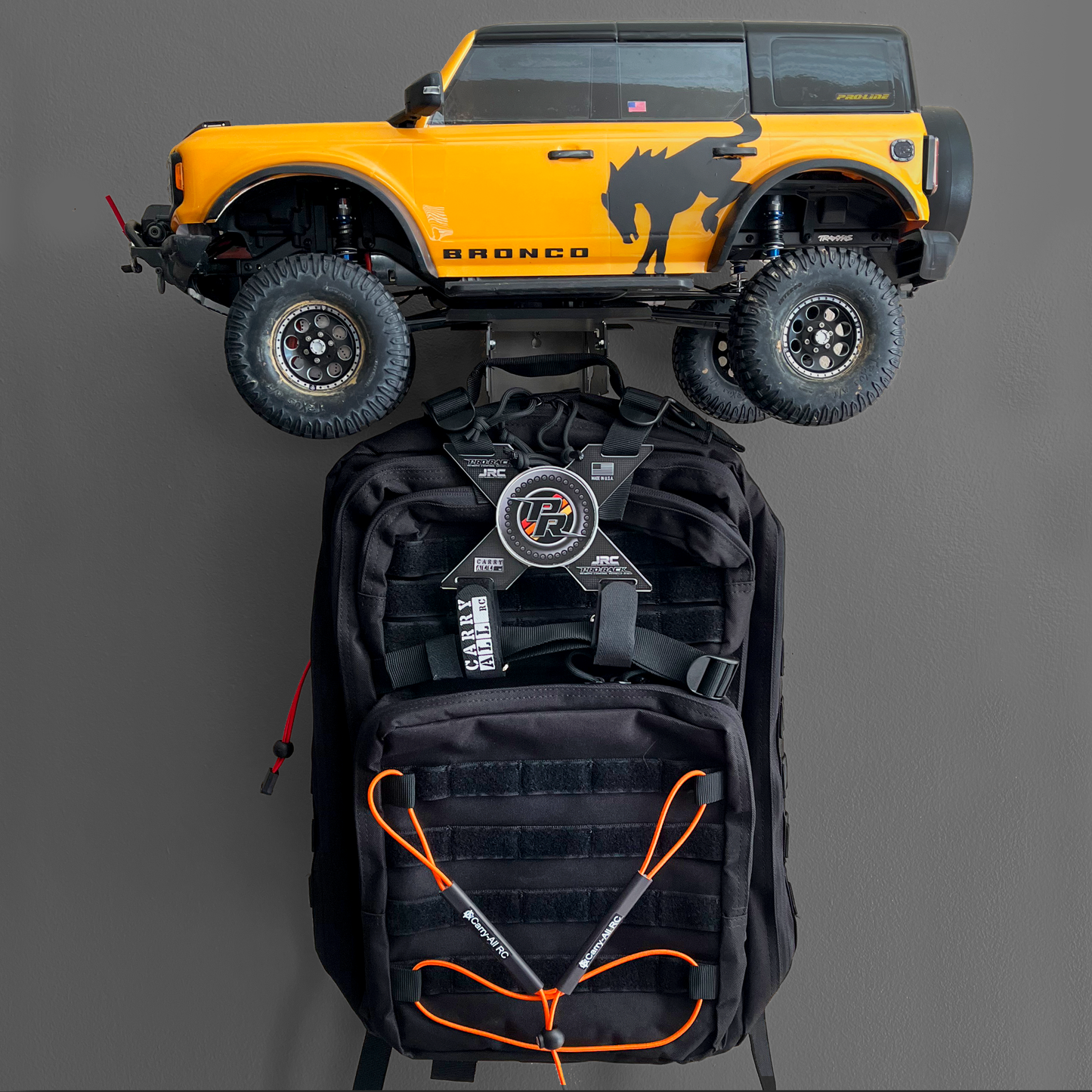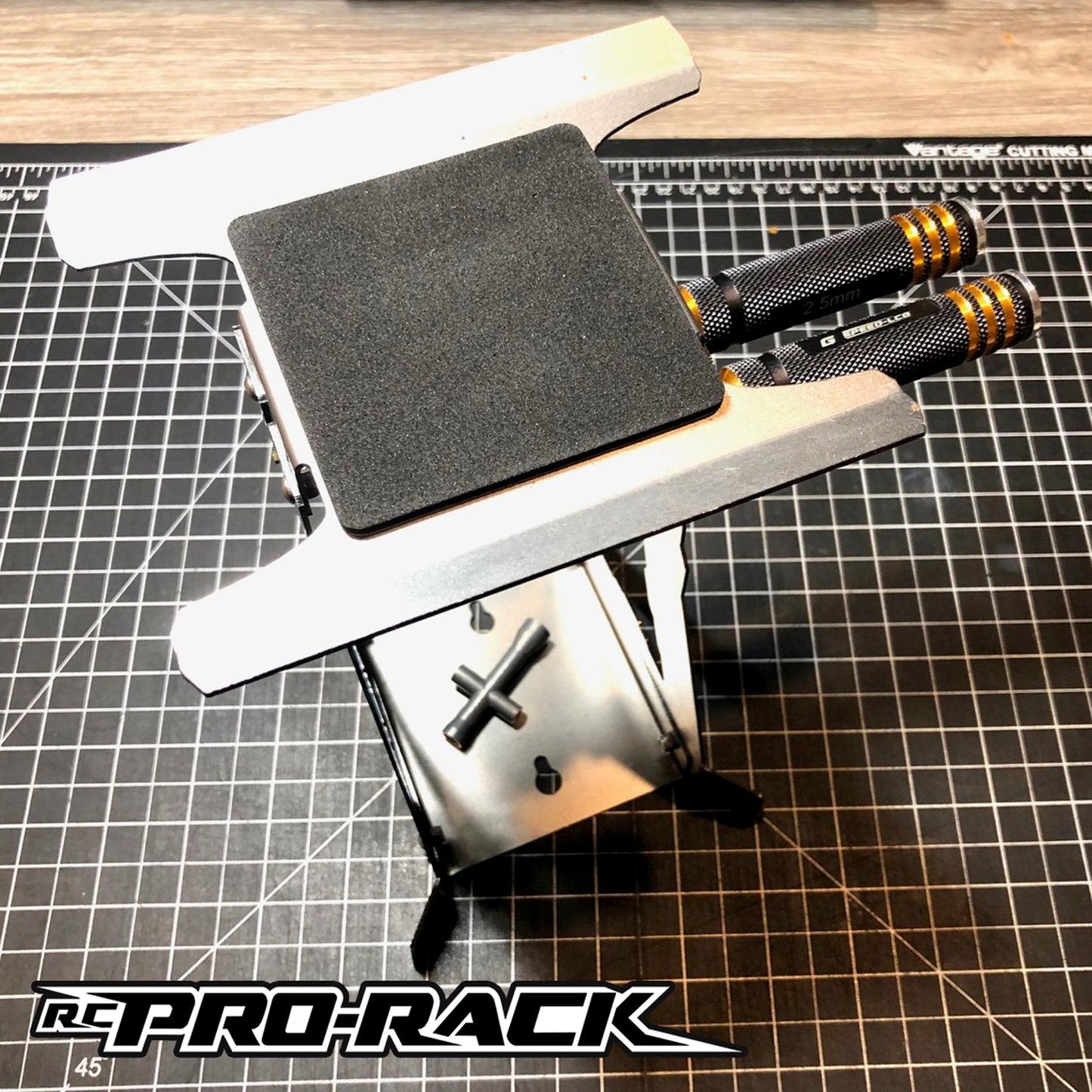 Very nice product
Highly recommended! Sturdy platforms. I did clear coat the stands and mounted on a 2x6 which I pre-mounted to the studs.
Amazing RC crawler storage and display!
These racks are the perfect storage and store display solution for all my GSPEED Chassis rigs at the G-SHOP
awesome product!
If you have a limited amount of space and want clean look defiantly buy this product!
Greatest RC Rack
I've got 10 of the pro rack elite's on my wall. Two rows of 5 each. I'd recommend painting them so they don't flash rust. I primed all of mine and then sprayed Rustolum tuck bed liner on mine. Everyone who sees my RC cars on the racks compliments me on how cool they look.
A great solution
I purchased this to keep my truck off the workbench and out of the way. It works great and I would suggest this product to anyone wanting a storage solution for their RC cars and trucks.