RC PRO RACK 1/10 STANDARD WALL MOUNTED STORAGE & DISPLAY RACK
Regular price
$24.99 USD
Sale price
$22.50 USD
Unit price
per
Sale
Sold out
The RC Pro Rack standard display and storage rack is a great way to get your 1/14-1/8 scale vehicles up and out of the way. Keep your foams from flat spotting and the tension off your suspension when it's not in use.  The added plus is that there is no better way to display an RC car than Pro Rack's Standard Model. It will make your rig look like it's floating in mid air. The standard wall display has an asymmetrical arm design and a raised flat cradle that allows for a wide variety of vehicle chassis types. The standard model's flat cradle is more universal, accommodating rigs with flat and tub bottoms to rigs with skid plates and links or trailing arms. Pro rack has you covered. The standard is also a great choice for wider vehicles.
The Standard 1/10 wall rack can hold vehicles up to 11.5. 12" with the tires touching the wall and 1/4 off center of cradle, but still rock having a solid, safe, balanced contact. 
For anything wider we highly recommend the XL version.
Weight limit on this rack is 15 Lbs. The rack can hold more weight but needs the HD kit (coming in the near future)for added strength in key areas.

We strongly suggest using leashes for safety and protection on all scale RC vehicles.
All Pro Rack cradles feature a slotted design that allows for 4-way adjust-ability, to accommodate "cheater" rigs with canted base plates, balancing factors or for aesthetic purposes.
Universal Fit Cradle
No Slip Foam Pad
Cheater Compatible
Adventure Pack Clip
Radio Storage Clip
Bottle Opener Slot
Hardware Included
Anti-Flat-Spotting

Pro-Spring-Saving
Keyhole Mounting
Cold Rolled Steel
Patented Design
Share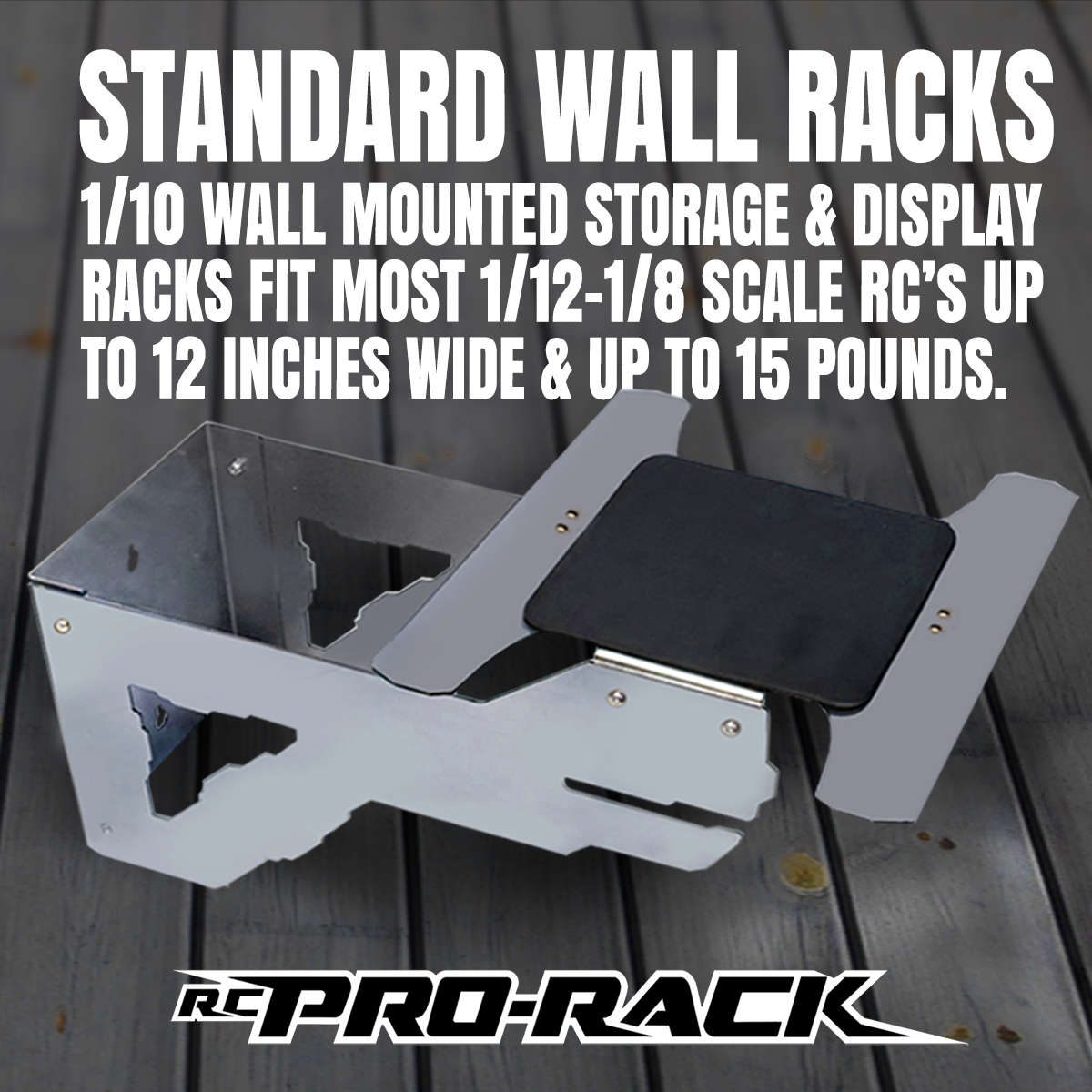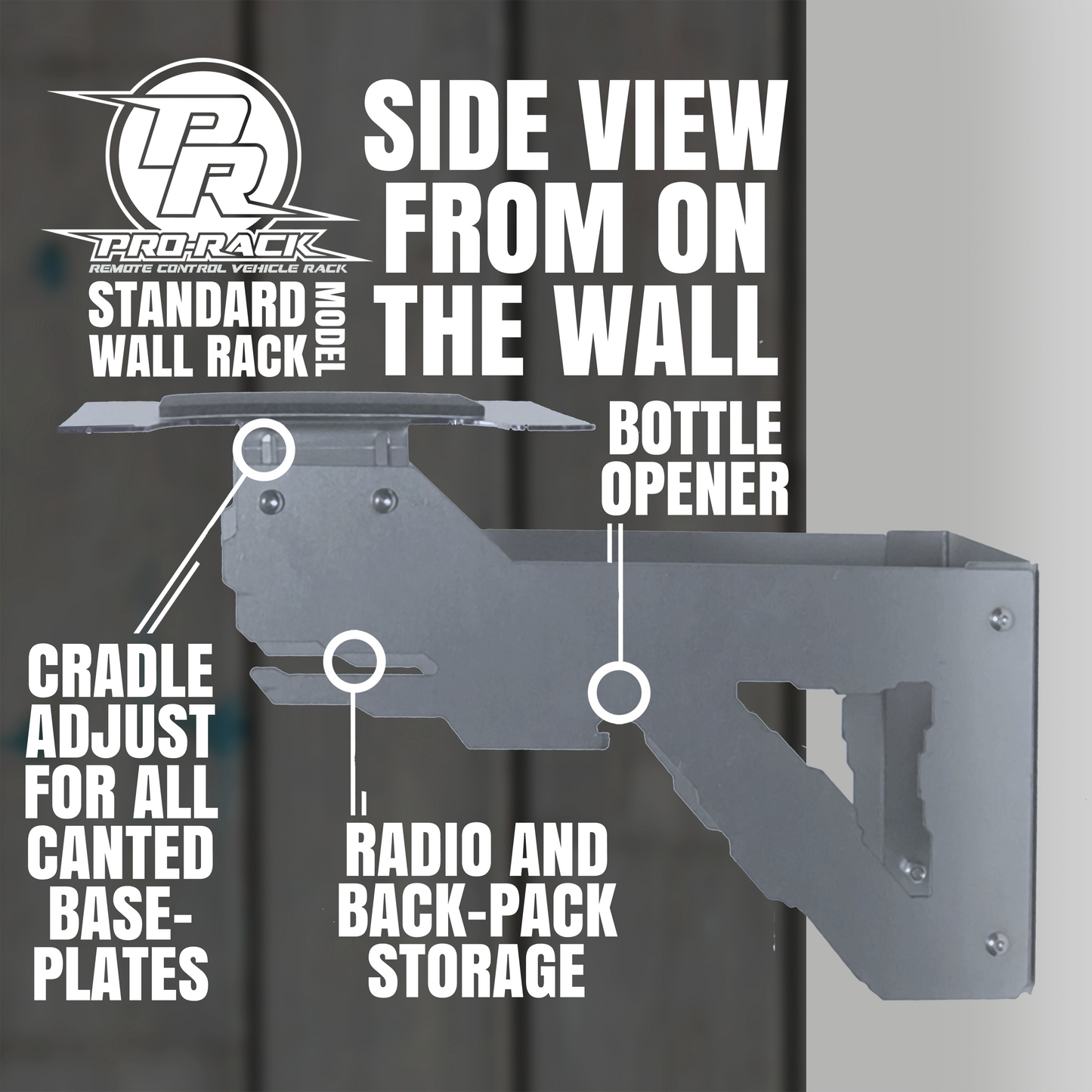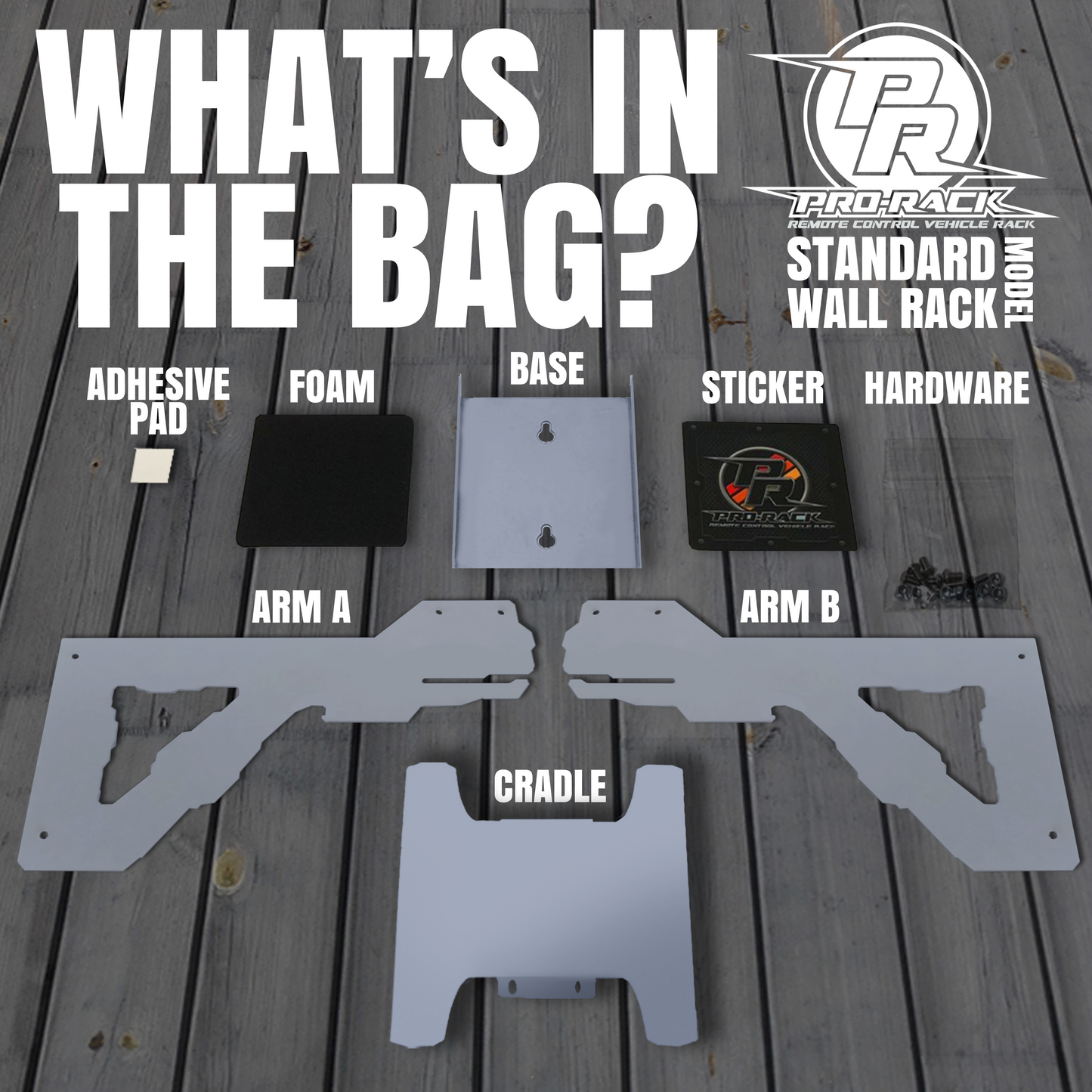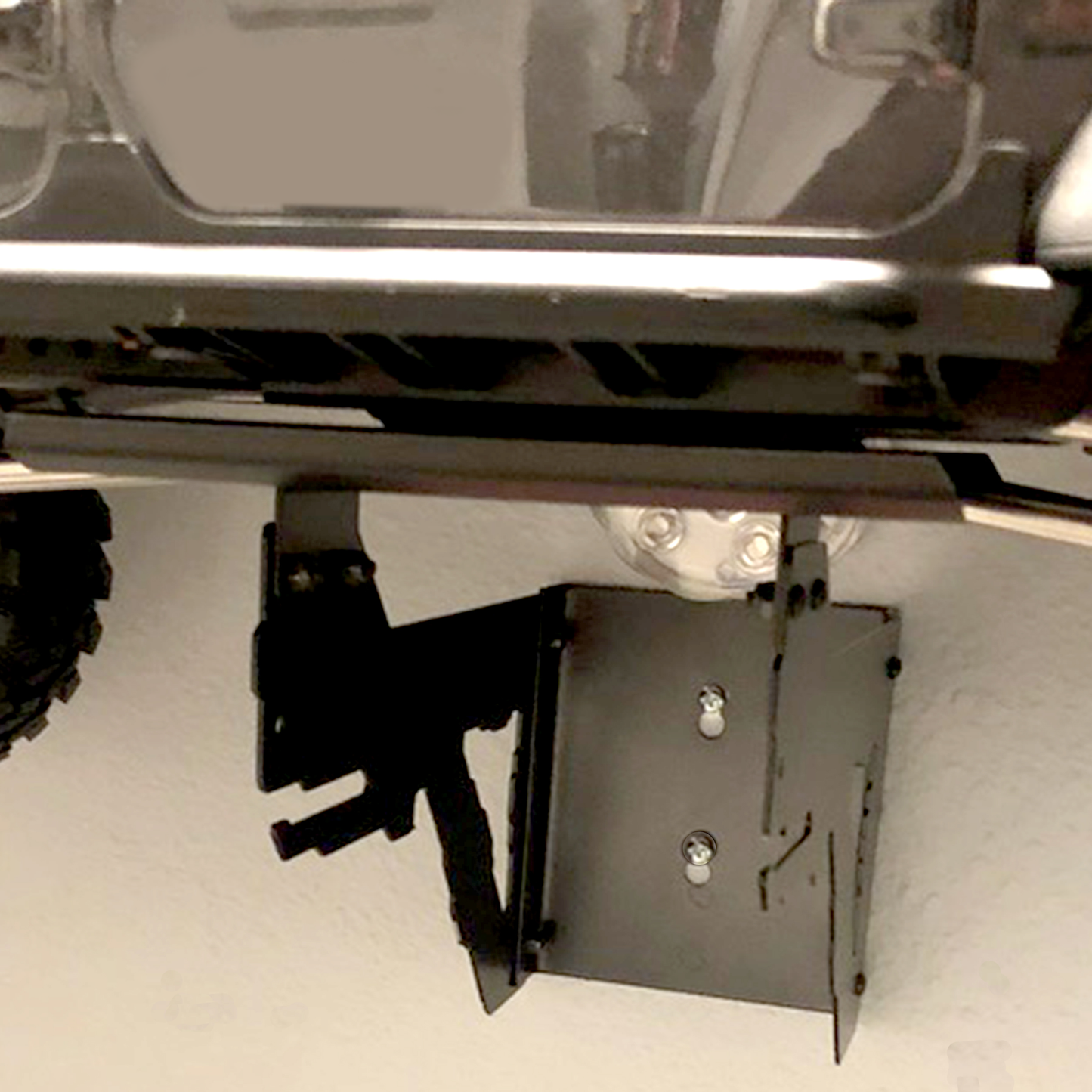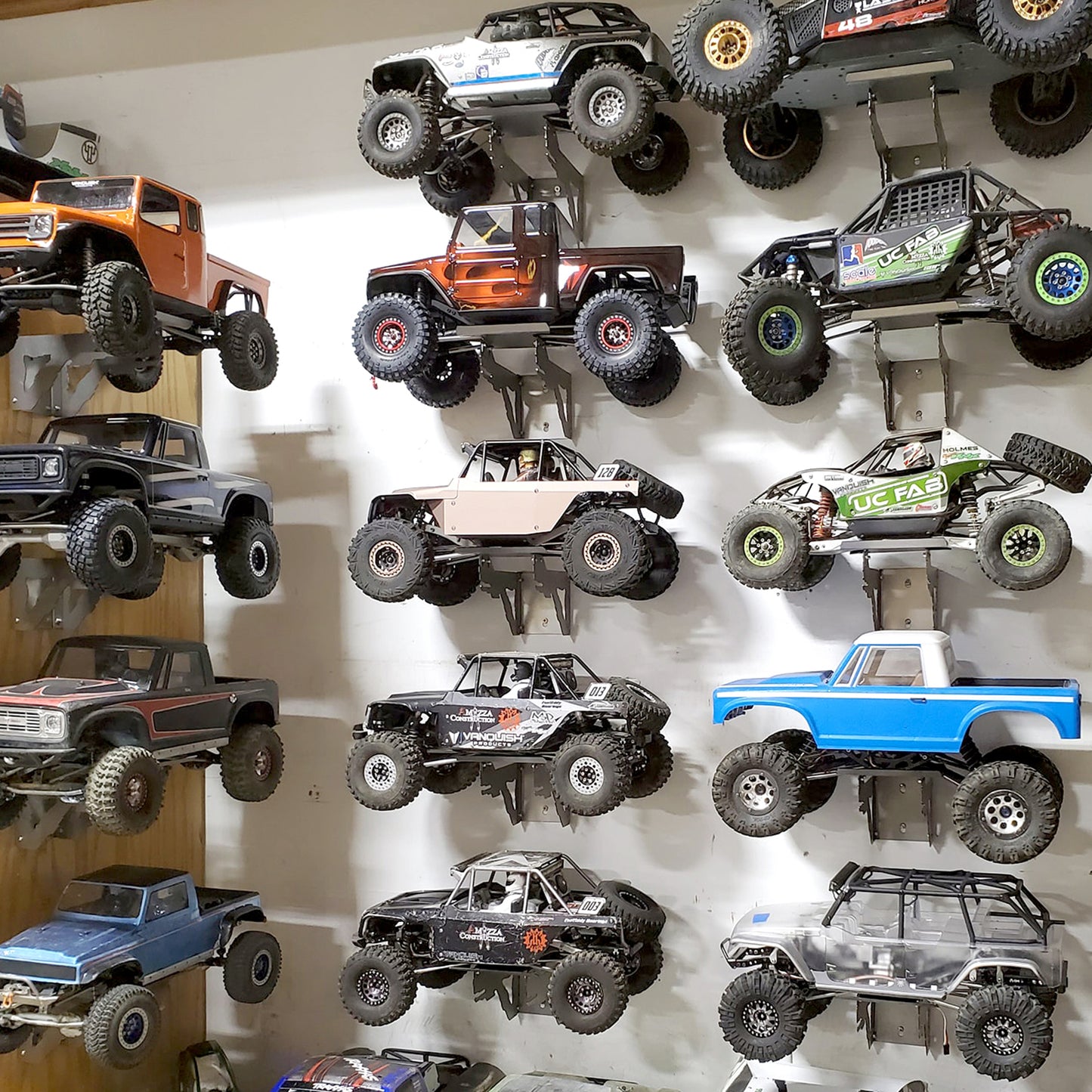 RC Trucks 1/10 & 1/18 scale
Very nice product, great quality, very reasonable price, bought 4 10th scale and 2 18th scale for me and my son will buying more, the metal is raw we prepped with some carb cleaner and painted the with a high quality Trim Black spray paint,
Rc Pro Rack
I'm confused by the instructions. I don't know whether the brackets go on the outside or the inside
The Arms(the two parts that are the same)go on the outside. The wall bracket and cradle go on the inside.
Organized
Slick unit! Finally got them off the floor and shelves!
Easy to assemble and nice and clean. (Especially painted!)
Great product!
Just got some of the 1/24th and 1/10th rack and I love them…! Easy assembly and they look great on the wall! Thanks!